'Pilah' Smoked Duck (Itik Salai)
'Pilah' Smoked Duck (Itik Salai) is the result of a method of preparing duck which can be kept and used for a long period of time. Smoking adds flavour, improves the appearance of the duck and preserves the duck meat.
Smoked Duck Sandwich with Fig Chutney using 'Pilah' Smoked Duck (Itik Salai)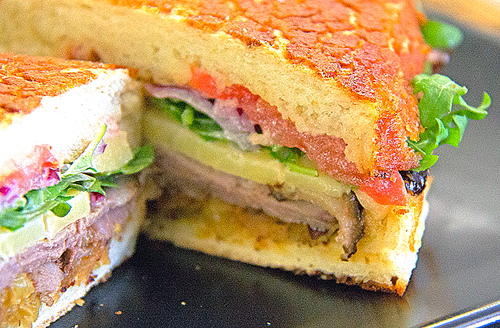 Ingredients:
1 Tsp Grapeseed Oil
1 Shallot, Minced
1 Garlic, Minced
10 Dried Figs, Soaked In Warm Water For 10 Minutes (Minimum), Chopped, Save Soaking Liquid
¼ Cup Raisins, Soaked In Warm Water For 10 Minutes (Minimum), Chopped
½ Tsp Ground Cumin
¼ Tsp Smoked Paprika
Pinch Of Cayenne
Pinch Of Red Chili Flakes
Salt And Pepper To Taste
1 Tsp White Balsamic Vinegar
3 Ounces Smoked Duck Breast, Thinly Sliced
1 Tbsp Salted Butter
1 Dutch Crunch Roll, 6 Inches Long, Cut Through The Center Lengthwise
1 Roma Tomato, Sliced Thinly
1 Red Onion, Thinly Sliced
1 Tbsp White Balsamic Vinegar
2 Slices White Cheddar Cheese
1 Lettuce Leaf
1 Tbsp Mayonnaise
1 Tbsp Dijon Mustard
1 pack 'Pilah' Smoked Duck (Cut into bite size slices)
Method:
For Fig Chutney
In a small saute pan, add oil on medium heat. Add shallots and cook until translucent.
Add garlic and cook for 30 seconds.
Add the chopped figs and raisins. Mix well.
Add salt, pepper, cumin, paprika, red chili flakes and cayenne. Mix well.
Add a couple of tablespoons of the dried fruit soaking liquid. Add more if needed to continue to soften about 10 minutes.
Turn off the heat and add a teaspoon of white balsamic vinegar. Set aside.
Assembling The Sandwich
Mix 1 tablespoon of white balsamic vinegar with red onions and allow it to pickle while toasting the bread.
Turn on a panini press, or a heavy pan or griddle. Place a little butter on the pan. Toast the cut side of the roll. Toast until lightly golden brown.
Spread mayonnaise on one cut side of the roll.
Spread mustard on the other cut side of the roll.
Top the side with the mustard with the fig chutney, then top it with slices of smoked duck, cheese, pickled onions. Place the other half of the roll on top and place it into the panini press.
Press down until golden brown and the crust is crisp. If you don't have a panini press use a heavy pan and place on top of the sandwich and grill one side at a time until golden and crisp.
Once crisp, reopen the sandwich and place tomato slices and lettuce.
Serve and Enjoy!
To know more about smoked meat, please click here
To see more products from Halal Street UK, click the link below.