'CerCuba' Sauces (Spicy Shrimp Paste/Black Pepper/Sour)
'CerCuba' Sauces are a great hit with Malaysians because they are full of flavour made using only fresh natural ingredients. The fresh ingredients used help to maintain great taste and quality of these sauces. The spiciness, heat and sourness of these sauces add an extra punch to any dish as they are ready to eat.
Shitake Mushroom Stir Fry With 'CerCuba' Black Pepper Sauce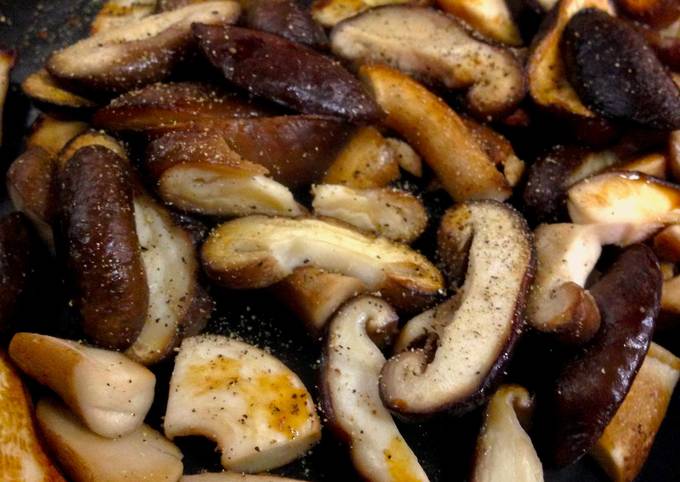 Ingredients:
8 large, fleshy shiitake mushrooms
1/2 Tablespoon sesame oil (or olive oil if you don't have it)
salt
1/2 teaspoon soy sauce
2 to 3 to Tablespoons of 'CerCuba' Black Pepper Sauce (adjust according to tatse)
Method:
Separate the stems from the top of the shiitake mushrooms. Cut off the hard part from the bottom of the stem.
Cut the stems in half lengthwise. Cut the tops into about 1 cm thick slices.
Heat the sesame oil (or olive oil) on medium in a big frying pan. Lay out the pieces of shiitake mushrooms in the pan so one of the cut sides is facing the bottom. Sprinkle over a little salt.
Let the shiitake 'grill' for a few minutes until the bottom side is starting to soften and brown a little. Then, flip over (you can do it roughly) so the other side can cook.
Stir a few times if needed to cook any uncooked spots until shiitake slices are soft and juicy. Right at the end, quickly mix in the soy sauce and 'CerCuba' Black Pepper Sauce. Give a good stir and mix well. All ready to have as side dish with rice, bread, pasta, noodles and rice porridge.
To know more about shrimp paste (sambal belacan), please click here
To see more food products on HalalStreet UK, please click here