'SISIK' COW'S OFFAL – COMBO PACK
'SISIK' COW'S OFFAL is a sheer delight to many Malaysians as it comes in a combo pack comprising of PARU GESEK BERLADO & PARU SAMBAL MINANG BERLADO (Cow's offal in spicy sauce). Both of these authentic Malaysian delicacies are made using only the finest premium ingredients. They have no preservatives in them and have a shelf life of 1 to 2 years due to its retort packaging technique.
Let's cook glutinous rice or sticky rice  in a rice cooker to go with 'SISIK' COW'S OFFAL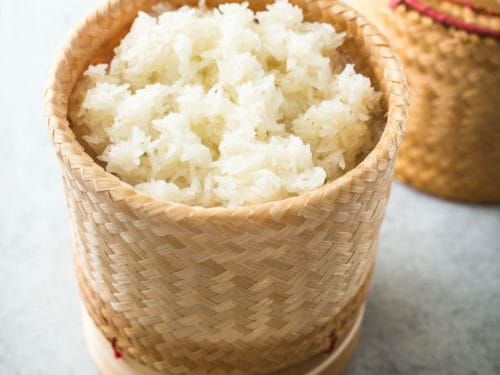 Ingredients"
2 cups Thai sticky rice (also called sweet or glutinous rice)
2 1/2 cups water
1/2 teaspoon kosher salt
1 pandan leave (tied in knot) – optional
Method:
Wash sticky rice ahead of time and drain it.
Place sticky rice in your rice cooker pan.
Add the water and stir.
Let the rice soak at least 40 minutes to 1 hour . Sticky rice has a hard outer shell that needs to soften in order for it to achieve the best texture.
Add the salt and pandan leave and stir once more. Turn on your rice cooker.
When your rice cooker switches off, let the rice sit at least 5 minutes longer. Serve and enjoy.
Tips
Sticky rice will become stickier the longer it sits, so if you want it very sticky, make it ahead of time.
If you find that the rice is too sticky for your liking, skip soaking the rice. Although soaking the rice before cooking is common, eliminating this step will result in a more al dente texture, while this may not be traditional, it may be more pleasing to your palate.
To know more about this delicacy, please watch this video
To know more about sambal, please click here
To see more food products on HalalStreet UK, please click here