'Cik Yut' Spicy Sauce – Ready To Eat (Sambal Penyet)
'Cik Yut' Spicy Sauce is a classic traditional sauce that all Malaysians simply love to stock up in the pantry cupboards. Using only bird's eye chilli, red chilli, tomatoes, shrimp paste and cooked  to perfection. This ready to eat sauce pairs well with white rice, fried rice, rich coconut rice (nasi lemak), glutinous rice (pulut), bread, pasta, noodles and even rice porridge.
Let's Make Spicy Spaghetti With 'Cik Yut' Spicy Sauce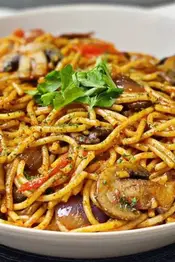 Ingredients:
1/2 packet of Spaghetti (Follow the instructions on the packet and cook the spaghetti Al Dante. Drain the water and leave it aside to cool. Save some of the water for later use)
1 to 5 tablespoons of 'Cik Yut' Spicy Sauce
1 medium onion (thinly sliced)
3 shiitake mushrooms (Wash shiitake mushrooms well. Soak in hot water for 30 minutes to let it bloom. Once bloomed, squeeze the water and slice the mushrooms thinly. Save the water that the mushrooms were soaked as they are packed with umami flavour)
2 to 3 tablespoons of butter (You can add more or less as this makes the spaghetti velvety and rich)
Salt and sugar
Oil
Coriander leaves or spring onions for garnish
Method:
Pour 1 tablespoon of oil in a heated wok or pan. Add in 1 tablespoon of butter and stir well.
Add in the onions and saute for a minute or 2.
Add the sliced mushrooms and continue to saute. Let the mushroom and onion sweat for 2 minutes.
Add in 'Cik Yut' Spicy Sauce and mix well with mushrooms and onions. First use 2 tablespoons and you can adjust later. Do a taste test and adjust accordingly.
Add in the cooked spaghetti and give a good but gentle toss and mix.
Make a well in the middle of the spaghetti and add in some of the pasta water and mushroom soaked water.
Give a good mix and finally add some butter. This gives a rich taste and a velvety look to the spaghetti.
Do a final taste and adjust to your palate.
Plate it up and garnish with coriander leaves or spring onions. Serve while hot. Enjoy!
To know more about sambal, please click here
To see more food products on HalalStreet UK, please click here