Rona Feminine Wash
Rona Feminine Wash is specially formulated for women from a combination of quality natural ingredients. This product helps to deal with problems that women face on a monthly basis.
Betel – Sireh
Betel leaves have anti-inflammatory and anti-bacterial properties. You can use betel leaf if you have acne-prone skin. Take a few betel leaves and grind them to make a smooth paste. Add a pinch of turmeric powder and apply this on your face. Wash it off once it dries and pat your skin dry with a soft towel.
Mint – Pudina
Mint leaves work well as a mild astringent agent that helps to tone your skin naturally. It is potent to clear off the dead cells, removes the dirt from the pores and revamps your skin to a smoother, supple and well -hydrated tone. In addition, it also retains the moisture in your skin by tightening the pores.
Centella Asiatica – Pegaga
It has been used in Ayurvedic medicine for the purposes of boosting memory, wound healing, mild diuresis, increasing concentration and alertness, anti-anxiety, and anti-stress. It has also been used for centuries in the treatment of liver and kidney problems.
Quercus Infectoria – Manjakani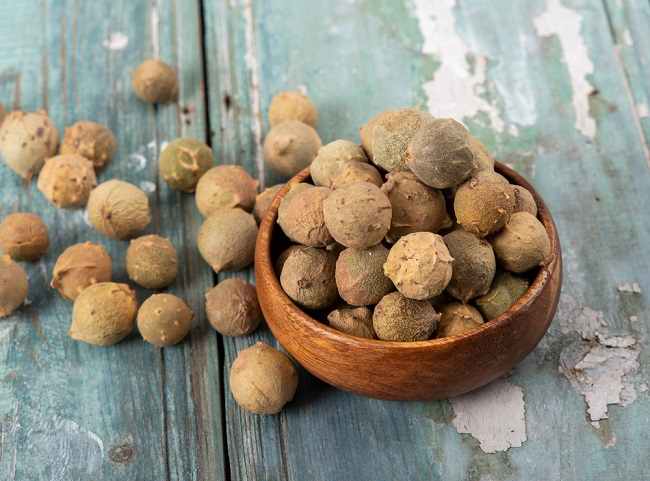 manjakani is useful in wound healing due to its antioxidant and anti-inflammatory properties. It reduces the risk of skin infection due to its antibacterial property. It also has an astringent property that constricts the skin cells or tissues and helps in skin tightening.
Parameria Polyneura – Serapat
This herb has been used for centuries to firm vaginal muscles and strengthen the uterus, as well as assisting the pre- and post-natal stages of pregnancy.
Coconut – Kelapa
Coconut oil may be linked to some potential benefits for skin, including reducing inflammation, keeping skin moisturized and helping heal wounds. The medium-chain fatty acids found in coconut oil also possess antimicrobial properties that can help treat acne and protect the skin from harmful bacteria.
Olive –  Zaitun
Olive oil acts as an antioxidant, which is a substance that prevents oxidation. When applied to the skin, antioxidants may prevent premature aging.
To know more about betel leaves, please click here
To see more beauty products on Halalstreet UK, please click here