'Nek Yom Foods' Extra Spicy Sauce is a ready to eat and ready to cook sauce that most Malaysians readily stock up in their pantries. This ready to eat sauce goes well with white rice, fried rice, rich coconut rice (nasi lemak), glutinous rice (pulut), bread, pasta, noodles, fried chicken cutlets, steak, lamb chops and even rice porridge.
About Nek Yom Foods
From our test kitchen comes this mouth-watering creation of a recipe that has been passed down from one generation to another. Now we share this sauce with you so that it can be enjoyed together with your family and dear acquaintances.
We always emphasize the aspect of cleanliness and quality of food so that it always remains fresh and guarantees a longer shelf life. Our products are guaranteed halalan tayyiban and 100% homemade by muslim bumiputeras.
Let's make prawns in spicy sauce in a jiffy using 'Nek Yom Foods' Extra Spicy Sauce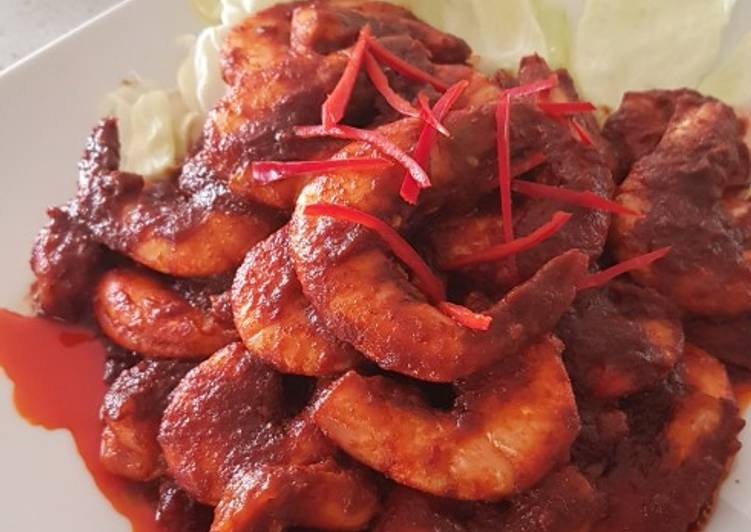 Ingredients:
500g of prawns (Clean and devein the prawns. Wash it and leave it on a paper towel to dry)
1 onion (Peel, wash and slice it thinly)
5 tablespoons of 'Nek Yom Foods' Extra Spicy Sauce (You might need more)
Oil
Sugar and salt (Optional)
Deseeded fresh red chilli, thinly sliced
Method:
Pour some oil in a pan or wok and pan-fry the prawns. Ensure that both sides of the prawns are cooked well. Remove and leave it on a paper towel.
In the same pan the prawns were seared, throw in the onions and saute for a minute. Let the onions soften.
Add 'Nek Yom Foods' Extra Spicy Sauce to the onions and give a good mix.
Add the prawns to this sauce and mix well too. Ensure that every prawn is coated with this yummy sauce.
After a minute, do a taste test to see if it suits your palate. Adjust accordingly with salt, sugar and extra spicy sauce. There is no necessity to cook for long as all are pre-cooked ingredients.
Remove from heat and plate it up. Garnish with deseeded fresh red chilli and serve it hot. Enjoy!
To know more about sambal, please click here
To see more food products on HalalStreet UK, please click here