Crunchy And Spicy Fried Anchovies is a great condiment that Malaysians simply love to have in their pantry cupboard. It comes in handy when your cooked food is bland and needs a little spicy lift in taste to please the palate.
Let's Turn This Crunchy And Spicy Fried Anchovies Into Sambal Ikan Bilis (Spicy Anchovies In Sauce)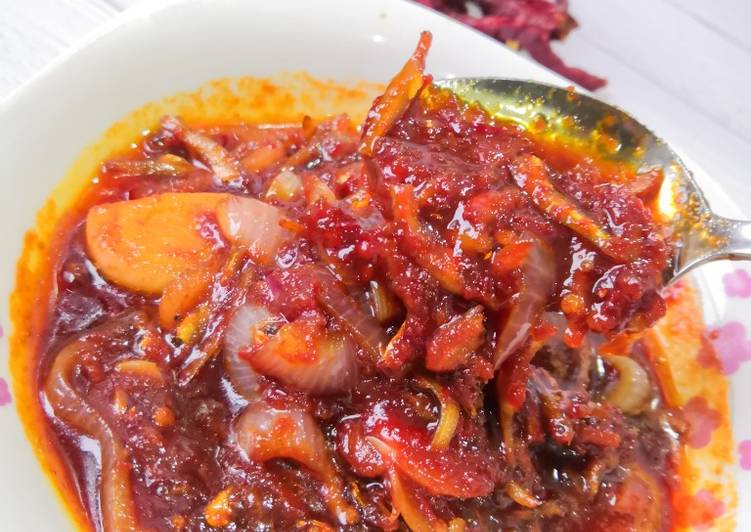 Ingredients:
1 large onion thinly sliced
1 large tomato sliced
1 red chilli sliced
Lime juice and sugar (optional)
Water
Oil
Tomato ketchup or spicy chilli sauce
Method:
In a wok or pan pour 1 teaspoon of oil
Drop in the sliced onions and saute for a minute or 2
Just drop the Crunchy And Spicy Fried Anchovies in the wok and mix well.
Add tomato ketchup or spicy chilli sauce and saute for a few minutes until the anchovies soften. Add some water if sambal is too thick.
Add in tomato slices and some fresh red chillies if you want more heat
No necessity to cook for long as most ingredients are already cooked
Add some sugar and lime juice if needed to balance the heat and spiciness
Serve as spicy fried anchovies in sauce (sambal ikan bilis) Sandwich,  serve as Sambal Ikan Bills And Onion Sandwich With Green Apple, add the cooked sambal ikan bilis onto cooked white rice and mix well. It become a simple fried rice.
You have just created something new from some things that you have in your pantry and refrigerator.
To know more about Anchovies, please click here
To see more products on HalalStreet UK, please click here